Today is Day 7 of the Dirty Diaper Laundry's Flats & Handwashing Challenge. (For info about the challenge, you can view Dirty
Diaper Laundry's site
, my
blog post about my preparation
,
Day 1
,
Day 2
,
Day 3
,
Day 4
,
Day 5
, &
Day 6
.) Woohoo, it's officially the last day of the challenge however you might notice that the image above lists the 30th as the last day. Kim has apologized as this is an error. As I'm having so much fun during this challenge, I plan to go through Day 8 with the possibility of going back to washing and drying via machine in the evening.
Yesterday was a fun-filled day! It was one of my old high school buddy's daughter's 5th birthday. They recently moved into the most gorgeous condominium community and held the celebration in the clubhouse. Driving into the gated community felt like driving into a luxe Las Vegas hotel. Even the clubhouse was lavish! It was huge and included a large "living room" with fireplace, dining tables that converted into card tables, a gaming room (perfect for poker night), a large kitchen with the biggest sink and fridge I've ever seen in real life, and the most awesome indoor pool. Despite it being chilly and rainy (Booo!!!! It's almost June in NorCal for crying out loud!!), you felt transported to the tropics in this atrium that was pleasantly humid.
Indoor pool



My friends had encouraged us to bring swimsuits but I doubted we'd be swimming in the overcast weather, assuming incorrectly that the pool was outside. Plus, El isn't a huge fan of water above belly level, especially if her feet don't touch the floor or if she's not able to cling onto someone like a leach. However, seeing all the little kids, who happened to be all girls with most being 5 and younger had her looking on with envy. El has swam in just a diaper cover before so I knew the lack of swimwear wouldn't be a problem. I stripped her down to her undershirt, removed the padfolded flat from the Flip cover, and snapped her back into the cover into an impromptu "swim diaper." (*Note: Chlorine Bleach is not supposed to be used on PUL diapers as this supposedly destroys the waterproof layer and elastic. I guess that the levels in a pool aren't damaging but cloth diaper companies would discourage it. I make a point to rinse really well right after, as you should with bathing suits.)
I didn't bring any swimwear but there were plenty of adults around willing to carry her around the pool. She's usually pretty anxious in the water but she quickly warmed up. I had never seen her so comfortable with a stranger, let along in 3.5 ft deep water. She even hung onto an inflatable tube correctly and kicked her feet around with no help. I was amazed!!!
Floating like a champ!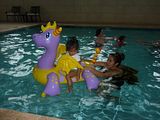 I thought she would be too scared to ride this dragon floatie but she loved it!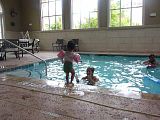 Jumping off the ledge is a fun little game for El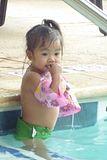 We ended up taking her shirt off to keep her warmer, since she wasn't completely submersed.
After about an hour, I interrupted her pool time to let her auntie (we call every adult either auntie/uncle, lolo/lola, i.e. "grandpa/grandma," or ate/kuya, i.e. "older sister/brother" in our culture) get some of her own solo pool time. I didn't have a towel and had considered using some spare clothes in El's diaper bag or even my jacket. Then it occurred to me to use the most absorbent items we have, CLOTH DIAPERS, OF COURSE!
A prefold or even a microfiber insert would have been just fine to soak up the moisture but the flat was almost a perfect towel for El's tiny body. I used two just in case the one wouldn't be absorbent enough and quickly realized one would have sufficed.
These flats dried her off even faster than a towel.


That's one more reason I LOVE CLOTH DIAPERS; they double as swimwear and towels!
Wet Flip cover & undershirt and slightly damp towels.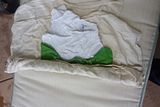 I didn't have an extra plastic bag so I decided to roll up the Flip and shirt with the flats.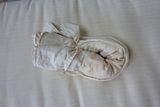 This made for easier transport!


Although the day before, I thought I wouldn't have to wash diapers the next day, I was wrong. I pulled out one spare diaper when we got home and couldn't find any other clean ones. As El was fast asleep in the car parked in the garage, I decided to wash the day's diapers as quickly as possible downstairs. I could have used the guest bathroom but knew from the first time handwashing during this challenge that the sink is way too small. I chose the kitchen sink. (Before your yuck reflex is triggered, I scrubbed the sink
before
and
after
handwashing the diapers. Plus, there were no poopy dipes today as El had finished business in the toilet this morning.)
I used one basin of the sink, plugged with the stopper, for the pre-rinse. Drained the basin and wrung the diapers out really well, then added a squirt of dish soap for the hot wash.
Costco brand dish soap. Best natural dish soap I've found and very affordable!
I agitated with diaper with gloved hands for about 3 or 4 minutes before draining the sink and ringing out each diaper thoroughly. I plugged up the larger basin and laid each flat out while the basin filled with hot water.

Last rinse

As I filled up the basin, I realized that there were no bubbles. I found this odd as dish soap is notorious for suds, which is why almost all front loading washers have it explicitly written into the manuals NOT to use dishsoap. It is awesome for "stripping" diapers of any residue as it cleans very well.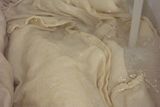 There are bubbles where the stream hits the water but no sudsy bubbles!
Even after agitating the water, I didn't find any bubbles!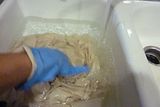 Imitating the agitating arm of a toploading machine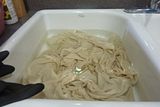 As clear as can be!
I speculate that the reason for the clean rinsing dipes is due to my thorough wringing out of the diapers after the initial rinse and after the hot wash with soap. I was able to do a very good job of wringing due to the grip of the latex gloves. I also found it much easier to agitate the diapers with a wider and more shallow area to work in, rather than the garbage pail used the other night. All in all, it took me about 13 minutes from start to finish to wash 5 flats and a cover (which I washed first and didn't photograph). Kid you not! And I'm sure it'll probably take less time to dry these flats than the ones from the other night since they seem to be much less damp. If I had to handwash diapers, I think washing in the sink with dish soap and latex gloves is the way to go!